At Kebun, our clients wished to replace their poorly performing 1960's bungalow with a new build highly sustainable and energy efficient home that would meet the needs and flexibility required for modern family living.
Working with both the context of the sites topography and the listed building and historic park that the site sits between, we have been able to create a clean contemporary home that is respectful of its surroundings. The design has been integrated into the landscape and maximises views into the historic park. The form and design of the property provides a high level of private space for the family to enjoy.
The inspiration for this building lies somewhere between memories of an architectural field trip to Barcelona and watching spaghetti westerns with my grandfather as a young child.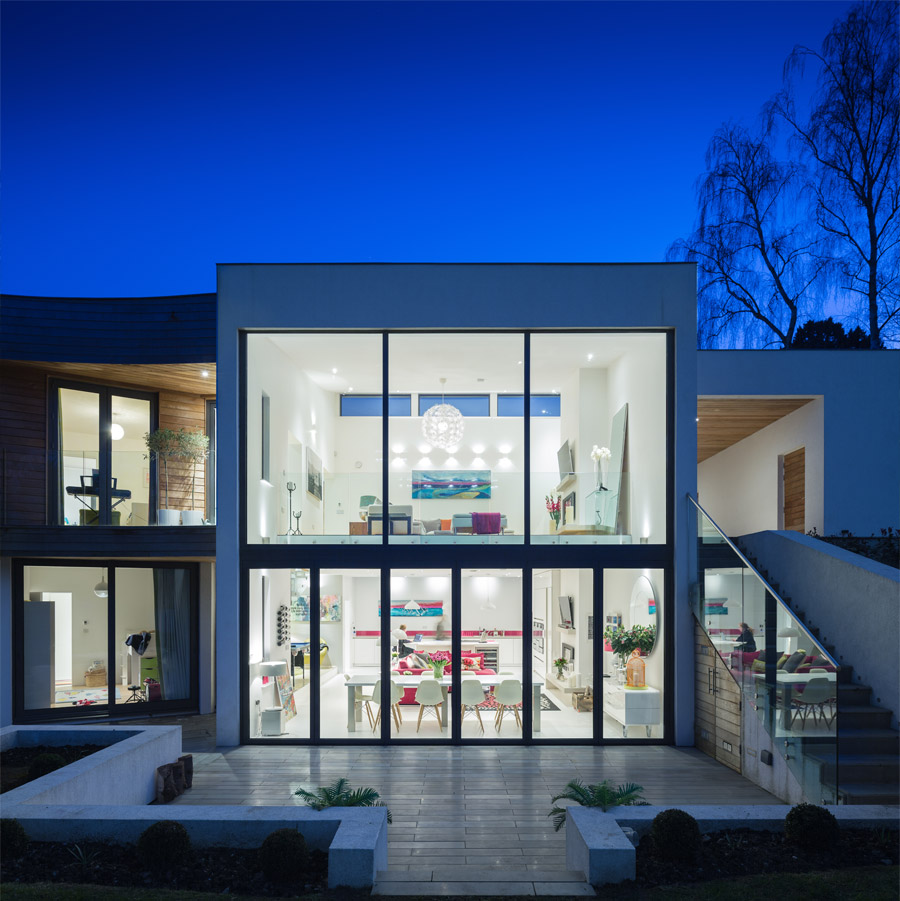 The concept of room arrangement, open plan living and interlinked spaces was considered in terms of the site and how the property was entered. As the site was sloping from front to back and you entered from the upper ground level, a typical arrangement of a two storey house – with bedrooms at first floor and living on ground – was not ideal.
The 'upside down house' alternative was also deemed unsuitable in our thought process as the primary private garden would not be integrated with the principal rooms. For this property we designed the house with a vertical split; a two storey bedroom wing that was set further into the site away from the entrance drive, garage and parking area.
The section facing the drive is a two storey living wing that incorporates the open plan living space on the lower ground floor. This is open to the first floor sitting room via the double height dining area. The design of the building features a small snug / family room with a private south facing terrace, as well as flexible bedrooms that can be opened up or split into two to work in a suitable configuration, dependent on which children are staying at home.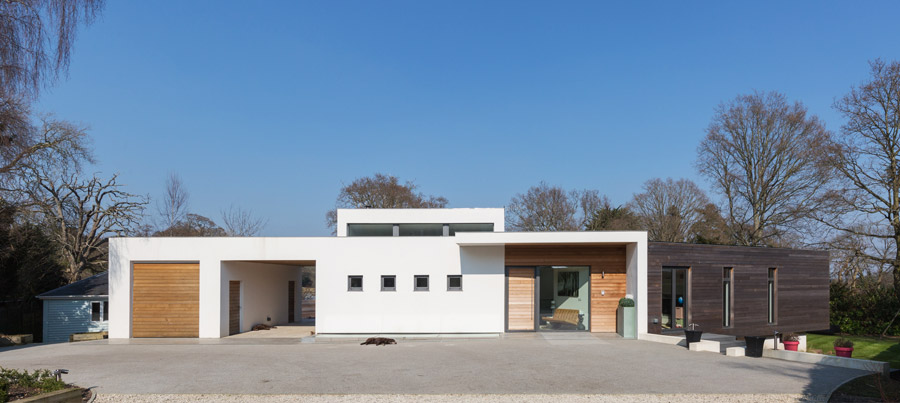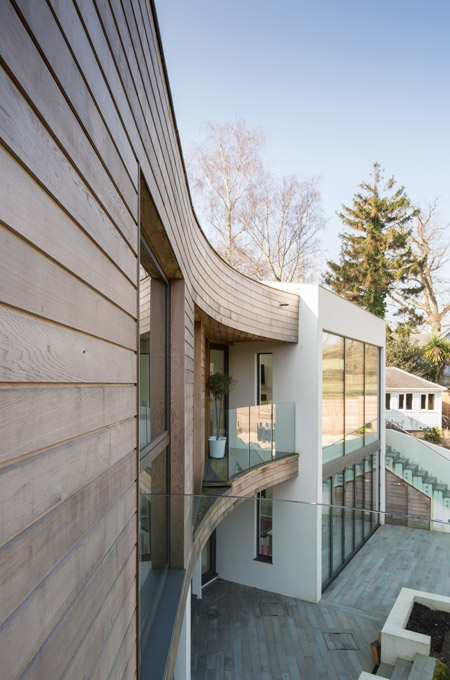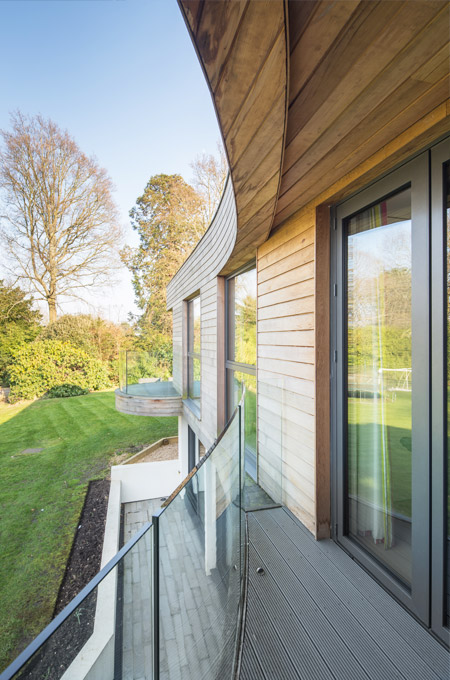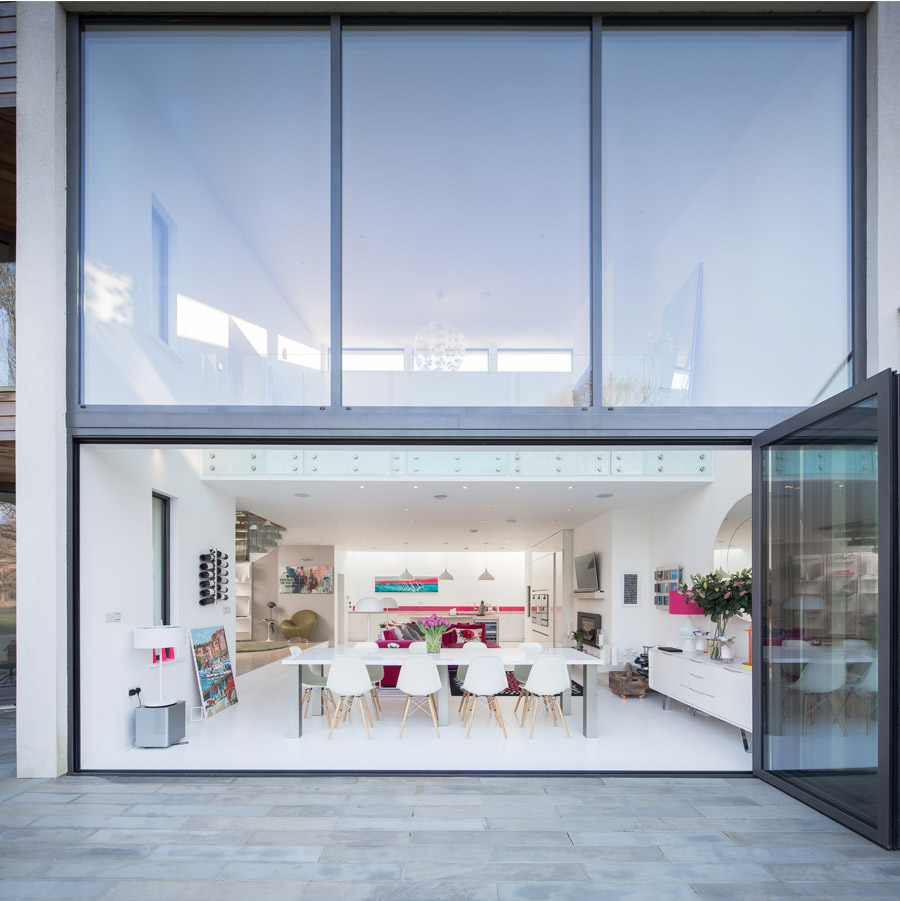 "What we ended up with is, in no way, what we imagined – but in a fantastic way. We love it." – Client, Kebun
The property employs some subtle and more engaging curves within it's predominantly linear design, most notably those to the stair. The ribbon string of the stair gracefully unwinds between the home's two levels to create a focal point. The stair, which was manufactured by Littlehampton Welding, utilises a 520mm diameter 316 grade stainless steel pipe, which the central ribbon was cut from. The resulting elegance is far removed from its original intended use as a sewage pipe.